Full Medal Jacket is completing his first breeding season and owner Robin Baker could not be more pleased with the response he is getting.
"I am so thrilled with how many mare owners took a chance on Full Medal Jacket this breeding season," Robin Baker says. "I can't wait to see what these great mares will produce when crossed with him"
Full Medal Jacket is 2009 Black Stallion by Coats N Tails out of the Congress Champion and Congress Producing Champion mare, Mysisterscertifiable
'Ryder' as he if affectionately called, is a dream come true for Robin Baker and her mother, Karen Baker. This journey started back in 2005 with a mare named Mysisterscertifiable, who Baker showed to multiple futurity championships as well as a Congress Championship under all four judges in Novice Amateur Hunter Under Saddle. Their dream was to have a baby out of 'Sister' who they could go on and show and carry on its mother's winning ways. However they never expected what has come of that dream.
"Very early on we knew Ryder was special, Baker says, "He had character and a presence about him that made everyone notice him. Watching him in the pasture you just knew he was going to be something."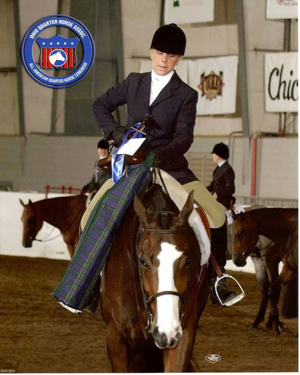 Since he was a later April baby the Bakers wanted to give him every opportunity to grow up right so they waited until April of his 2-year-old year to even begin to think of starting him. Robin called Kim and Curtis Reynolds of Fairfield, Florida to see if they were interested in starting him, as Robin had moved back to Michigan.
The Reynolds jumped at the chance and just a month into Ryder being in training Kim called to ask if Robin if they were interested in having him be a Congress Masters Horse.
"Since he was started so late we had concerns about him being ready in time, Baker recalls. "However the Reynolds assured her he was a special kind of horse and very trainable and that he would without a doubt make it."
His true training process did not start until June and sure enough by October he was ready for the Congress.
"Kim and Curtis did an outstanding job training and making sure he was prepared to the best of his ability," Baker explains. "When show day came he was ready and Kim did an outstanding job showing him."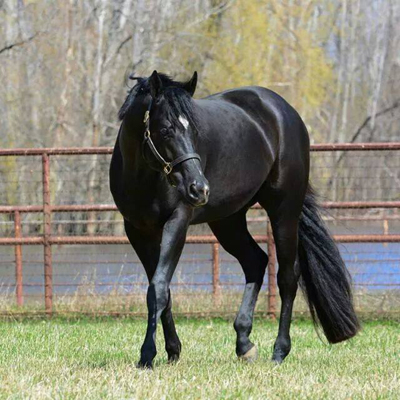 Full Medal Jacket was named the Reserve Congress Masters Champion for 2011. With only five months of training under saddle it was quite the accomplishment and the fulfillment of the Bakers' dreams
From there, Robin took him home and gave him most the winter off. They returned to the show pen in 2012 and added many more accomplishments to his record. They were NSBA World Champions, named to the Congress top five and top 10 and finished fourth at Tom Powers, just to name a few. The following year they concentrated on adding AQHA points to his record. He won multiple circuit awards in Open Hunter Under Saddle with Robin and Amateur Hunter Under Saddle with Katlin Schultz in the irons.
Full Medal Jacket is the only stallion that carries the Im Certifiable breeding line, he is also homozygous for the black gene. Robin has always said that he is the most trainable horse she has ever had, his sweet disposition and willing nature is one of his best attributes. He is very quiet and and very sweet. They hope that he passes that along to his foals.
Ryder is standing the 2015 Breeding season at Rick Leek Quarter horses located in Dryden, Michigan. His stud fee for 2014 is $1,000 which includes your chute/booking fee. If you are ever in the area and would like to go see him in person please just give them a call. Also, feel free to contact Robin Baker at (248) 765 4649 or email her at robin@fullmedaljacketaqha.com for further breeding opportunities or questions. His foals are eligible for AQHA Incentive Fund, NSBA BCF and SIF, Southern Belle Breeders, Tom Powers, APHA Breeder's Trust and he is part of the Michigan Stallion Service Auction.
"We would like to thank all the mare owners who have shown us such great support and have made Full Medal Jacket's first breeding season so successful," Robin Baker says.